Exploramos lugares increíbles de naturaleza pura y hacemos yoga por el camino
Próximos Retiros | Upcoming Retreats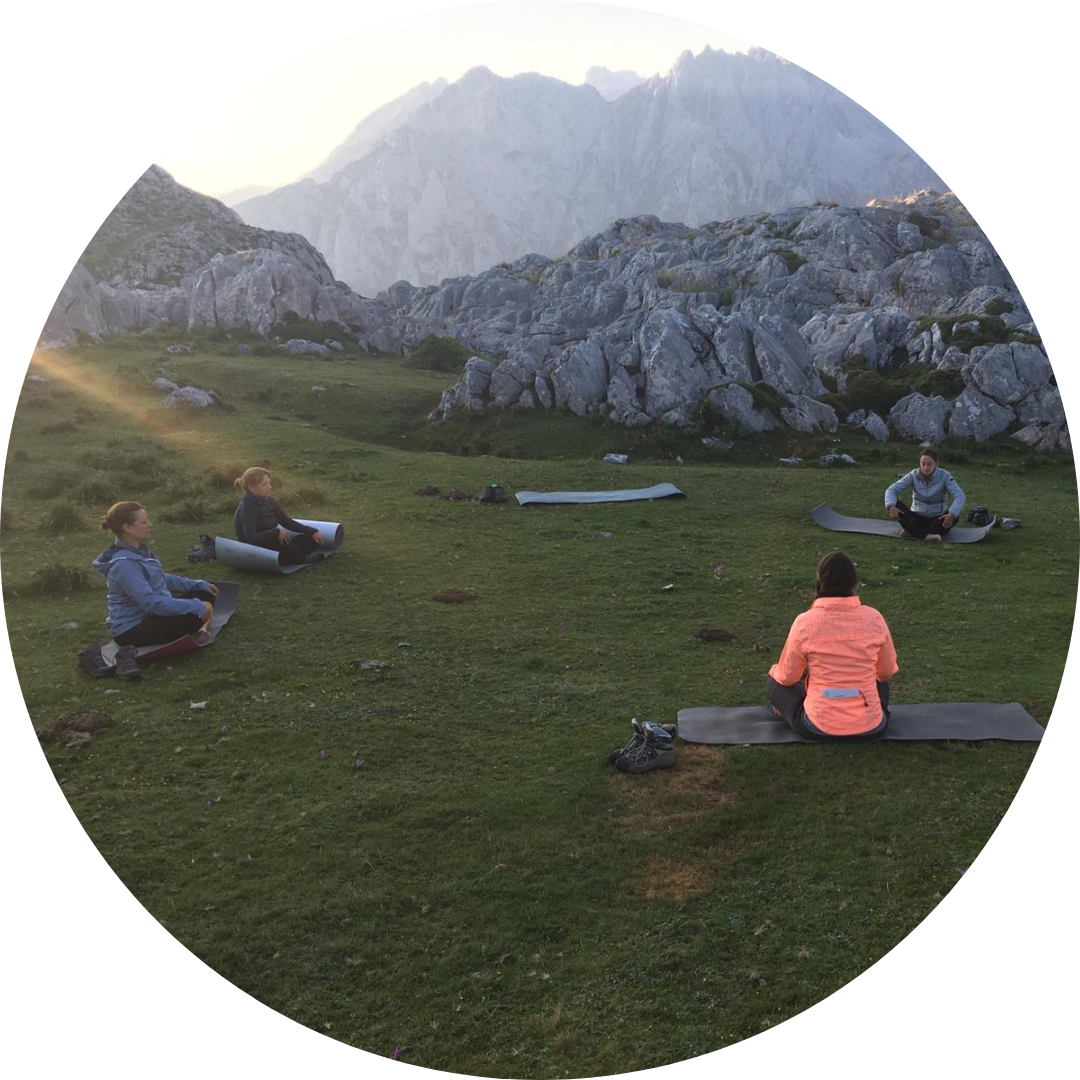 Yoga y Trekking en Asturias
Domingo 8 de mayo 2022 - Rio Casaño
Domingo 22 de mayo 2022 - Ubiña
Domingo 2 de octubre 2022 - Valle Duje/Aliva [Ruta benéfica]
Fin de semana 28-29 de mayo 2022 - Ponga
Fin de semana 4-5 de junio 2022 - Vegabaño
Fin de semana 11-12 de junio 2022 - Vega de Ario
Lunes y Martes 25-26 de julio 2022 - Vega de Ario
Lunes y Martes 8-9 de agosto 2022 - Macizo de Andara [¡con perseidas!]
Fin de semana 17-18 de septiembre 2022- Collado Jermoso
Puente 29-31 de octubre 2022- Refugio de Vegabaño
Retiros de yoga y trekking de dos días o un día
Two or one day yoga and hiking retreats.
¿Alguna vez has hecho yoga en el medio de la montaña con vacas rodeándote? ¿Alguna vez has hecho meditación en un hayedo?
Vamos a explorar el Paraíso Natural de España, conectar con la naturaleza y reunirse con nosotros mismos. Los retiros de Yogatrek Asturias son increíbles, entrelazando el yoga con el trekking y la naturaleza. Con guía de montaña, Rubén de Picos Outdoor, tenemos el suerte de explorar bosques de ensueño, ríos magnificos y montañas con vistas que no sueles disfrutar. El yoga lo hacemos parando en lugares preciosos por el camino. Es una experiencia única.
Have you ever practiced yoga in the mountains, surrounded by cows? Have you ever meditated in a forest of beech trees?
We'll explore the magnificent Picos de Europa, connect with nature and reunite with ourselves. The Yogatrek Asturias retreats are incredible days of intertwining yoga with hiking and nature. With mountain guide, Rubén from Picos Outdoor, we are fortunate enough to explore stunning forests, magnificent rivers and mountains with views you've only dreamt of. We practice yoga in beautiful locations along the way. It's a very special experience.
Los Retiros de Yogatrek Asturias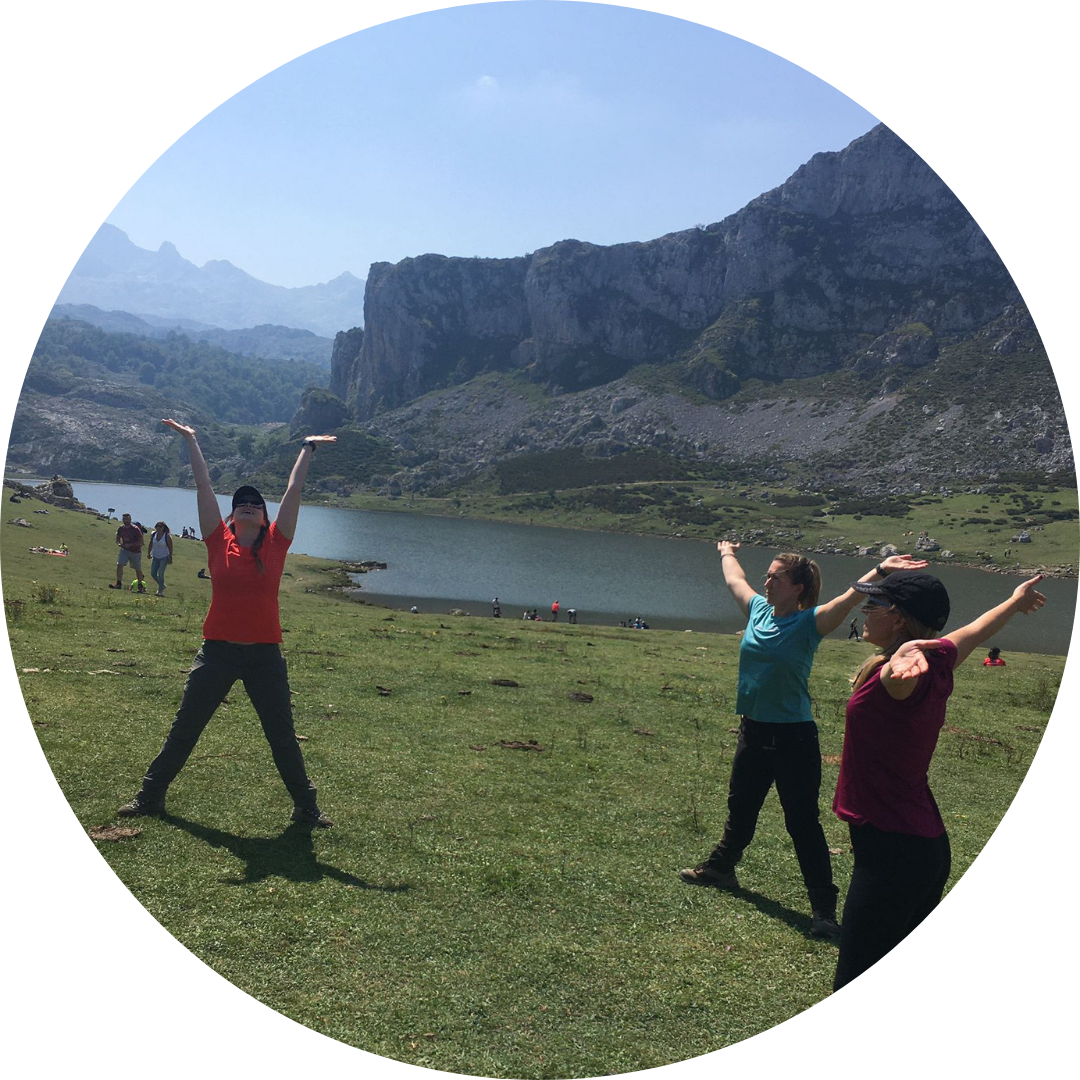 Retiro de yoga y senderismo de un día en lugares espectaculares.
One day hiking & yoga retreat in spectacular locations.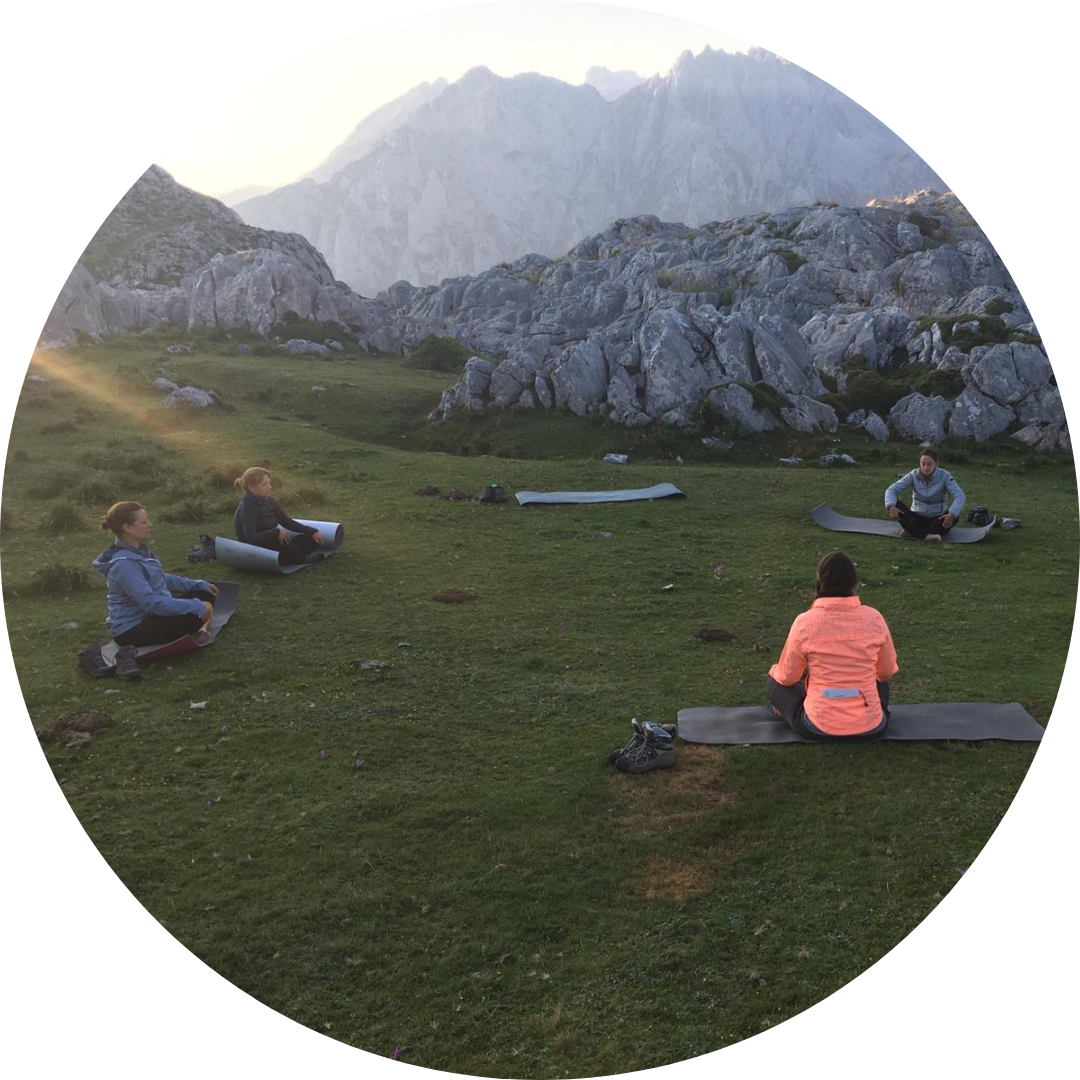 Retiro de yoga y trekking de dos a tres días con media pensión en refugio.
2-3 day yoga and hiking retreat, staying in a mountain refuge with half-board.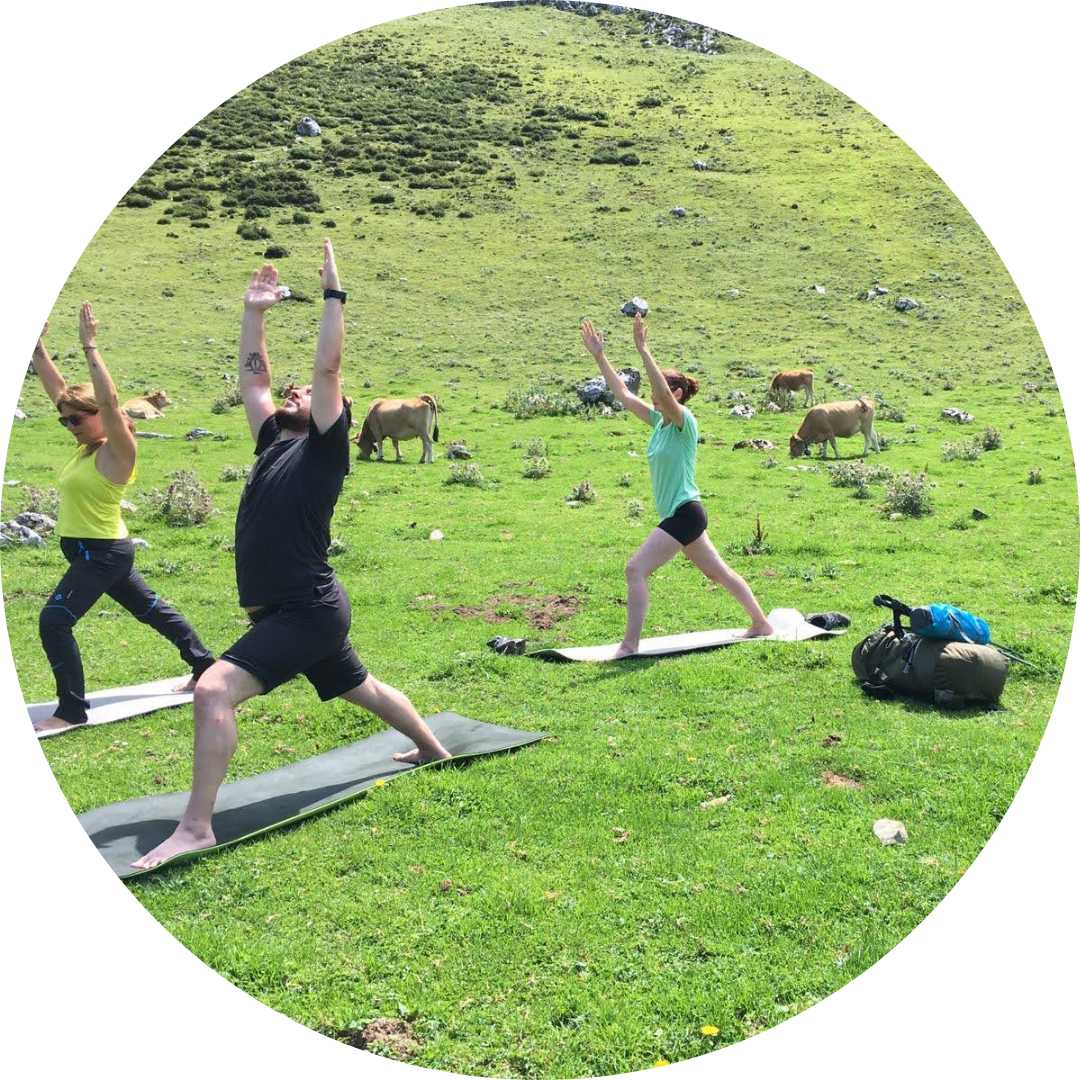 Retiro de yoga y trekking de dos días con vivac y un hotel de mil estrellas.
2 day yoga and hiking retreat, sleeping in vivac with a hotel of a thousand stars.
Lo que dicen nuestros clientes
Un lujo para todos los sentidos. Recomendable 100%. Gracias y mil gracias!
-Elena
Una experiencia muy agradable tanto la parte de trekking y vivac guiado por la profesionalidad y gran conocimiento del medio de Rubén, como el complemento del yoga, sin duda Tess te hace sentir muy comod@. Gracias a los dos y al resto del grupo porque parecía que nos conocíamos de toda la vida!!!!!!
-Alba
La combinación de trekking y yoga en ese entorno y con vuestra profesionalidad, es brutal!! Una experiencia para repetir y para recomendar! Mil gracias para esos dos días tan 🔝!!
-María
Los Yogatrek Incluye | The Yogatrek Include
Profesora titulada en Hatha Yoga (acreditado por Yoga Alliance E-RYT 200) | Certified Hatha Yoga teacher (accredited by Yoga Alliance E-RYT 200)

Seguro accidentes y RC | Accident and RC insurance coverage

Tiendas de Picos Outdoor o media pensión en refugio (2-3 días) | Hiking tents from Picos Outdoor or half-board in a mountain refuge (2-3 days)

Asesoramiento | Supervision

Material de seguridad | Security equipment
Para más información sobre lo que deberías traer a los retiros de yoga y trekking | For more information about what you should bring on the hiking & yoga retreats ➜ Picos Outdoor
⇣Contáctame para apuntarse | Contact me to sign up!⇣