Last week I sent out an email about setting intentions, or goals you want to bring focus to in your life. And I got a couple responses saying, "That's great Tess, but how do I make them accessible and actually implement them into my daily life? I keep trying, but then I lose focus and I just can't seem to make it part of an actual routine."
Let's just start by saying, it's not always easy and it does take dedication and work—especially at the beginning.
There's a popular myth that has been going around since the 1960s that says that it takes 21 days to form a new habit. Turns out it was actually just an observation made by Dr. Maxwell Maltz in his motivational self-help book Psycho-Cybernetics, published in 1960. And even he said that it was 21 days minimum. But, as we all know, we can often get excited about numbers and not always look at the whole picture. Anyway, 21 days stuck as fact.
In 2009, however, another group of scientists, headed by Phillippa Lally, published a study that showed that it actually takes an average of 66 days to pick up a habit, a little more than 2 months. Please, let's focus on that one word in the middle there: AVERAGE. Meaning, some people it takes less and some it takes longer. The study examined 82 participants over a 12 week period and found that 95% of people were able to form a new habit between 18 and 254 days.
In other words, to create new routines and new habits it does take time and dedication because it can take you, realistically, from 2 to 8 months.
Another interesting observation they made in the study was that, while repetition of a behavior in a consistent context increased automaticity, missing one time of showing up didn't materially affect the process of forming the habit. Meaning, just because you take a day off, or you forget occasionally, it's not going to destroy everything you're working towards. It's not all-or-nothing.
First: Don't let yourself feel down because it's taking a longer than you wanted/expected — that's NORMAL! Remember it can take between 2-8 months to actually create a habit out of a routine. Embrace the journey, learn from yourself along the way. Take joy in the fact that you're doing it at all and you're doing it for you!
Second: You do not have to be perfect. None of us are perfect and creating a new habit isn't an exception. Give yourself grace; give yourself permission to make mistakes, learn from them, dust yourself off, and get back up to start again. And, keep in mind, each start might look a little different, depending on what you learn.
Third: Embrace the fact that learning a new habit is a journey not an event. It'll happen when it happens for you, each of us are different, embrace YOUR journey.
Also, you don't have to do it alone! You can ask a friend, family member, someone from your community to help support you.
That is one of my favorite sayings, and one I try my best to live by and remember. It's not always easy, but it's a good mantra to keep by your side. I first heard it from one of my students years ago and it resonated so much with me that I've kept it by my side all this time. It's good to remember when you're feeling a bit lost and let down that you haven't yet reached your "goal". Don't worry friend, it's all part of journey there.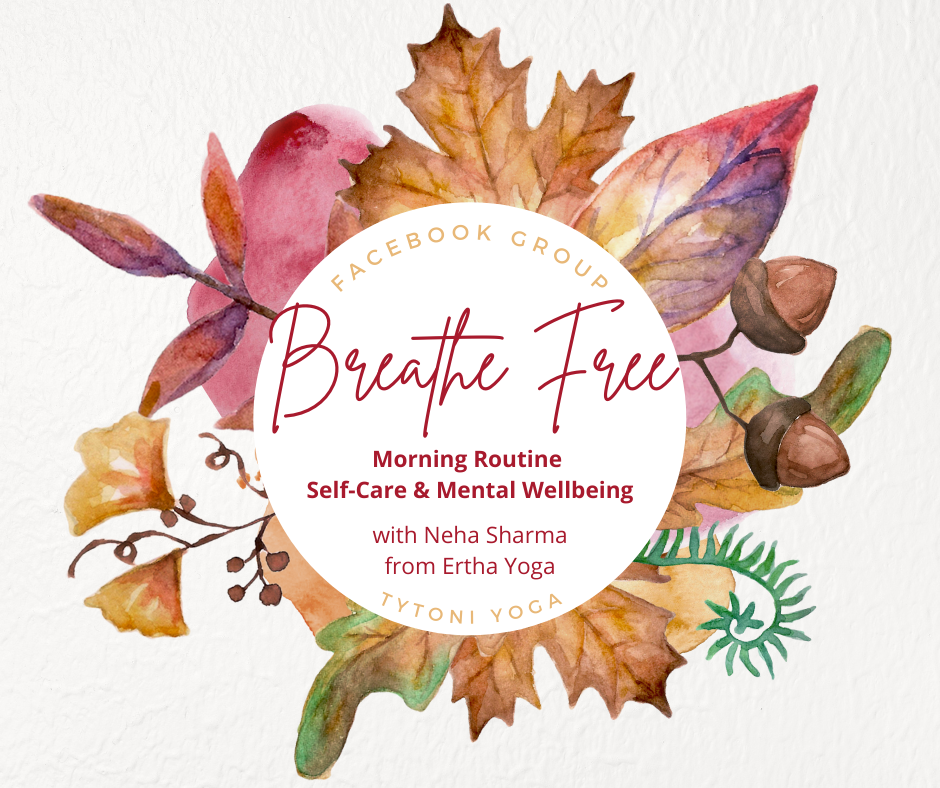 If you're still a little unsure how to get started, my good friend, teacher and mentor, Neha Sharma, yoga teacher and yoga therapist from Ertha Yoga, joined me live on Facebook Live in the Breathe Free Facebook group this morning.
We talked about creating accessible self-care routines using yogic tools to support our mental and physical wellbeing. Some of the main points to take home from our chat are:
Start your morning with mindfulness and awareness of you, your body, inside and out, and your surroundings.
Give yourself 5 extra minutes to wake up in calm
Check in with yourself throughout the day, it doesn't have to be long--How am I doing?
If you are struggling with pandemic fatigue/long covid, be sure to allow yourself to rest
Move and strengthen the body -- in a way that's right for you.
Do breathing exercises like kapalabati and bhastrika to help strengthen the lungs.
Yoga nidra, or yogic sleep--a type of guided awarenss--is brilliant to help your body fully rest from the inside out.
Neha has a post graduate diploma in yoga and Naturopathy. She is a 200 RYT (registered yoga teacher) and certified Medical Yoga Therapist. She has been practicing yoga since she was a teenager and has been teaching professionally for over 6 years now. She is trained in hatha yoga. Other than Yoga, Neha has a degree in journalism and mass commutations and at present she is pursuing her Masters in Social Work in India.
I personally met Neha while studying at Ayuryoga Eco-Ashram in the outskirts of Mysore, India, getting my own qualifications to become a yoga teacher. She's been an amazing mentor to me over the past couple years and I am so honored for her to share her wisdom and expertise with us tomorrow.
If you joined us live, thank you! If you couldn't make it live that's totally fine, the recording in the Facebook group and you can always ask questions in the comments and either myself or Neha and we'll respond to them as soon as possible.