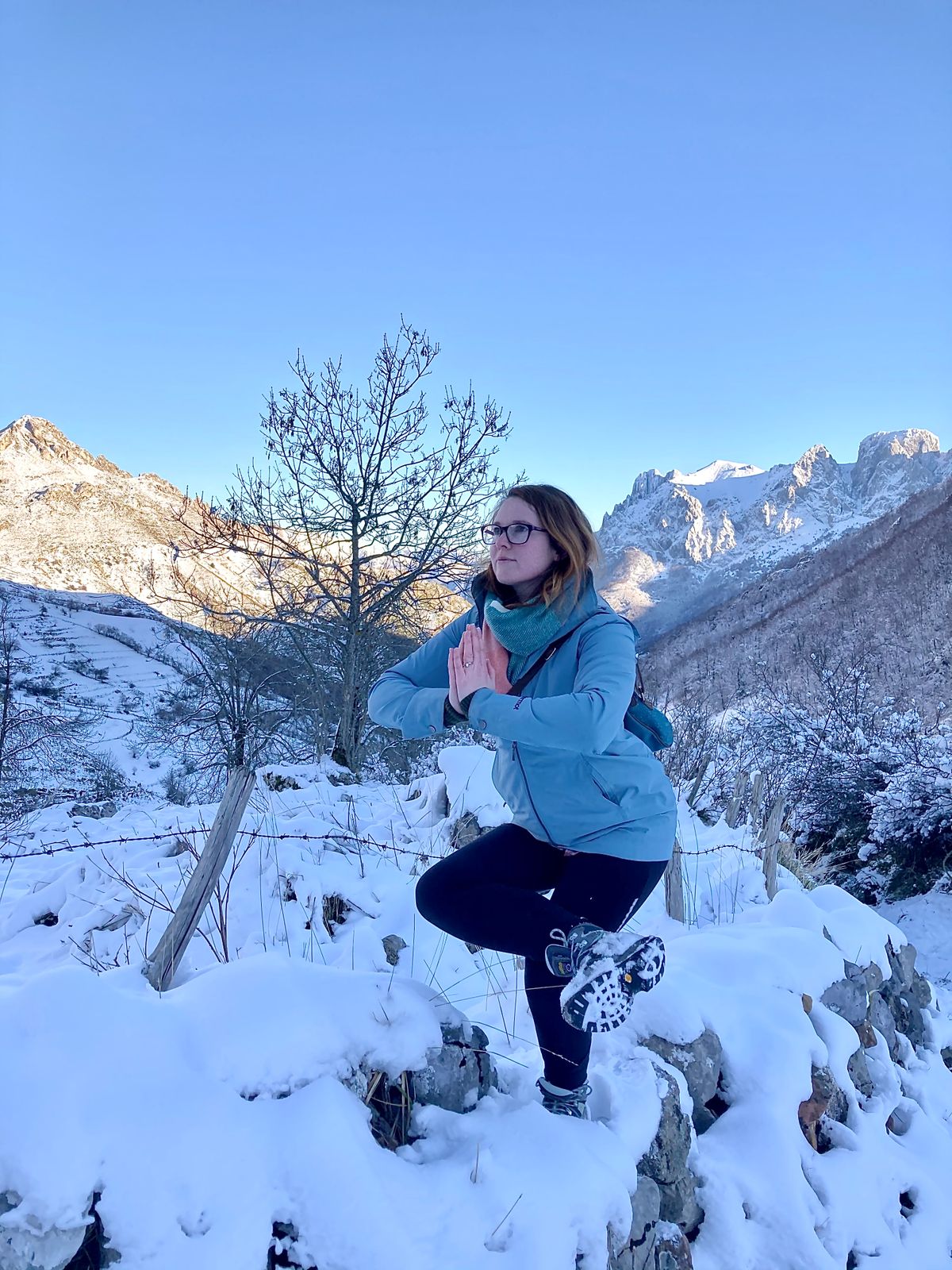 "𝑹𝒆𝒔𝒉𝒂𝒑𝒆 𝒚𝒐𝒖𝒓𝒔𝒆𝒍𝒇 𝒕𝒉𝒓𝒐𝒖𝒈𝒉 𝒕𝒉𝒆 𝒑𝒐𝒘𝒆𝒓 𝒐𝒇 𝒚𝒐𝒖𝒓 𝒘𝒊𝒍𝒍; 𝒏𝒆𝒗𝒆𝒓 𝒍𝒆𝒕 𝒚𝒐𝒖𝒓𝒔𝒆𝒍𝒇 𝒃𝒆 𝒅𝒆𝒈𝒓𝒂𝒅𝒆𝒅 𝒃𝒚 𝒔𝒆𝒍𝒇-𝒘𝒊𝒍𝒍. 𝑻𝒉𝒆 𝒘𝒊𝒍𝒍 𝒊𝒔 𝒕𝒉𝒆 𝒐𝒏𝒍𝒚 𝒇𝒓𝒊𝒆𝒏𝒅 𝒐𝒇 𝒕𝒉𝒆 𝑺𝒆𝒍𝒇; 𝒂𝒏𝒅 𝒕𝒉𝒆 𝒘𝒊𝒍𝒍 𝒊𝒔 𝒕𝒉𝒆 𝒐𝒏𝒍𝒚 𝒆𝒏𝒆𝒎𝒚 𝒐𝒇 𝒕𝒉𝒆 𝑺𝒆𝒍𝒇." - 𝑻𝒉𝒆 𝑩𝒉𝒂𝒈𝒂𝒗𝒂𝒅 𝑮𝒊𝒕𝒂
Here's to the New Year!
Winter has taken its hold on us now. The weather gods seem to be emulating this year of turmoil in this final week of December. The mountains are filled with snow and storms rage continuously along the coast of Asturias.
We're tired. Well, at least, I'm tired. And this weather is making me want to curl up on the sofa, hot chocolate in hand and cuddled in with blankets, my cat, and my husband. Hibernation mode is in full swing.
But, we did venture out the other day, Boxing Day, right before the major storms started to play in the snowy mountains. We went to Tuíza de Arriba. A precious little village up in the mountains, right in the shadow of the Ubiñas. The village is a starting point to hike up to the refuge, Refugio del Meicin, and routes to Macizo de Ubiña, Xomenzana, Siegalavá, Puertos de Agüeria, and many others.
We didn't walk far, but enjoyed playing in the snow, being up in the mountains again after so long of not being able to go up, and just being out of the city.
One-Legged Chair Pose, or Eka Pada Utkatasana, is a great pose to improve core strength and balance, strengthen legs, and open the hips. It's a nice pose to release the hamstrings, quadriceps, gluteus maximus and the psoas muscles. If you've been sitting a long time, this pose can help release tension in the lower body. It is also a good pose to strengthen your power of focus, as it can be a tricky balancing pose.
When trying this pose, be careful not to let your knee track past your ankle, as this can put too much pressure on the knee and ACL (anterior cruciate ligament). Activate in your core by pulling your navel inward to keep a straight line from your butt to your spine, so as not to excessively round or arch your back. If this pose doesn't work for you, find a different variation that does! Use a chair, a wall, or other props to help you recreate the shape, or even take it to the floor.
You should avoid this pose if you have a knee or ankle injury. If you have low blood pressure, or issues with your balance, try doing this pose against the wall or with the help of a chair.