Happy Monday and Happy October!
This month, and season, is all about change: change of temperatures, change of colors in the trees, change of lifestyles, and so many more.
Today marks a big change for me: It's the first day in over seven years that I'm not stepping into a classroom for the new school year. It's exciting. It's exhilarating. But it's also a bit scary--I'm not returning to a full time fixed contract!
But I'm grateful for the support of my friends and family that I was able to make the leap and turn teaching yoga and being a coach my full-time job.
Oprah once said the quote above, and it's so completely true. We need to live for ourselves, for our dreams, and we need to make the most of the moment we're in. But we can't always do so on our own, and support can come in so many different forms.
This blog post is all about sharing something with you that is very dear to me: Breathe Free. You may have noticed me mention Breathe Free before, you may even have heard me talk about it. If not, that's fine I'll fill you in now.
I want to give a little background first.
This pandemic hasn't been easy for many of us, some of us have found it much more challenging than others. But we're all navigating the same storm. My family and I have been fortunate in many senses, but we've also had our moments.
In March 2020, both my husband and I found ourselves on furlough and stuck inside our tiny flat for three months. But we were lucky, we have a terrace! I took advantage of those months by learning how to teach yoga online, studying, playing with our kitten Pippin and starting a terrace garden. It honestly wasn't too difficult for me. But for Michael it hit like a brick.
He went from travelling thousands of kilometres a week (roughly 70,000km a year), acting in different theatres all over the country, to N-O-T-H-I-N-G. And it wasn't easy. He felt lost and it affected both of us. We struggled through it, to be honest. I didn't know how to cope with him a) being down and out of it all the time and b) being home all the time. He didn't know how to cope with not having work, not traveling, and from my point of view, he was drowning.
Thankfully, things have changed. He's still on furlough, 18 months later, but he's found a passion project that has turned into a start-up company: DelNorte Brewing. He's still not making money from it, so we are thankful he's still able to stay on the furlough from his acting job, but we're even more thankful that he's his bright, happy (if sometimes grumpy) self again. And I am so incredibly proud of him!
In November 2020, almost a year ago now, we both caught COVID-19. Michael was worse than I, much worse. He thankfully never was in hospital but had undiagnosed pneumonia for months which wrecked havoc on his body and gave him terrible migraines, he still occasionally suffers from Long Covid. I was never originally diagnosed with COVID, I took 3 PCR tests and all came back negative. I had symptoms of exhaustion, muscle pain, and a slight fever, but figured the symptoms were just from the stress of the situation (helping Michael, working two jobs at the time and nervous about the whole situation). But a month after we took the antibodies test and both showed we'd had COVID. Mine was still in an earlier phase than Michael's, which told us I had caught it from him.
Long Covid was the kicker for Michael, a constant drain on energy, needing to use an inhaler to breathe better even though he hadn't needed one since he was a young child. At the beginning, just walking a couple blocks down the street was enough to drain him for a couple days. We started to work together to see what we could do to help his situation physically… and mentally for both of us.

I don't want this to sound like I'm looking for pity, or I think we faced the worst of the challenges these last 18 months have given people. I'm well aware of how lucky and privileged we have been and are, and I am honestly grateful every day for so many things over the last 18 months—especially the support of our friends and family. In the full scheme of things, we have been incredibly fortunate.
I am telling you all this, because I want you to know why it's important for me to reach out to those who are struggling right now because of pandemic fatigue—the constant nag of the the pandemic on your physical and mental health—and Long Covid.
Through our own experiences as a family and my studies, I have learned tools that can support and relieve pandemic fatigue and Long Covid. These tools come from yogic knowledge and corroborated by western science.
I do not mean to imply at any moment that these tools should or could replace the knowledge and expertise of your medical professionals, and if you are struggling with Long Covid, anxiety, depression, or any other physical or mental health ailment, please go get professional medical help.
What I can offer you are yogic tools that can support your recovery.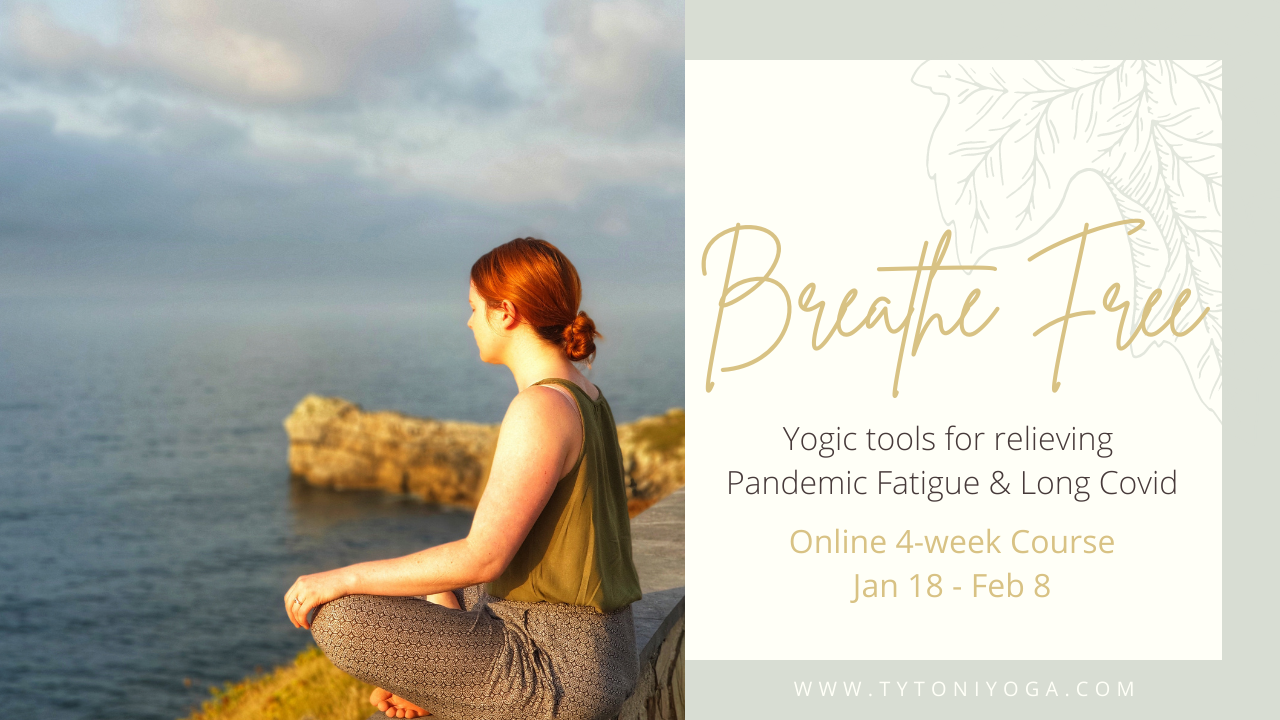 On January 18th I'll be launching an online course called,
Breathe Free course is 4 weeks dedicated to giving you a variety of yogic tools you can use to integrate into your daily life to support you during this time of need.
🍂Week 1 will be all about increasings breath awareness, discussing anatomy of breathing and practicing various techniques. We'll also discus how to implement 3Ps (Pace, Prioritize, and Plan) in our lives. Plus we'll end with a restorative Yoga Nidra (guided awareness).
🍂Week 2 is focusing on increasing body awareness, discussing and practicing easing the body, and how to include gentle movement into daily life. We'll end with a gentle moving meditation.
🍂Week 3 we'll be discussing and practicing tips and tools to relieve brain fog, anxiety and depression. We'll spend a bit more time practicing gentle movement and Yoga Nidra.
🍂Week 4 will be a brief review of everything we covered, a time to chat and discuss what we've learned and experienced over the last month, and how to continue implementing the tools going forward. We'll end with a short relaxing gentle movement and a Yoga Nidra.
Included as part of the course each week participants will receive that week's PDF handouts, a pre-recorded guided meditation or Yoga Nidra, journal topics and recordings of the live sessions.

If you, or anyone you know, feel you could benefit from Breathe Free, please don't hesitate to message me.

In the mean time, and even if you don't decide to join the Breathe Free course, if you join me on Instagram and/or Facebook, each week I'll be uploading tips and ideas that can help you navigate through the pandemic fog.