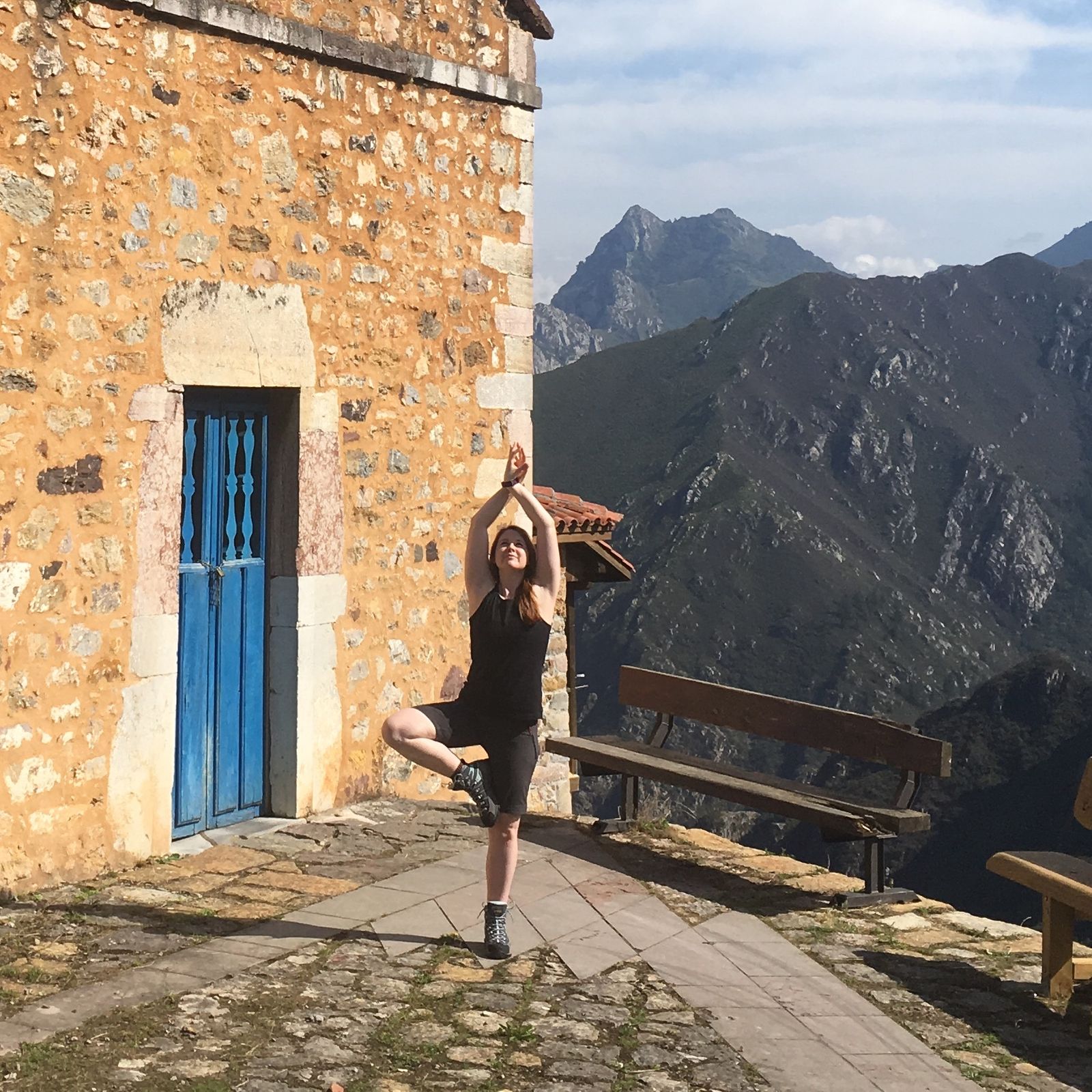 Iglesia Santa María, Bandujo, Asturias, Spain

[English] (She/Her) I am passionate about holistic health: mind & body. I 100% believe, which has been supported by science, that our mental health and our physical health are connected. Through my study of yoga, the more I learn, the more I realize how true this is. I've experienced chronic back pain as well as anxiety for years now, and have found that through a mindful and educated practice of yoga--asana, pranayama and meditation--I've been able to better serve my health and I hope to be able to share that experience with others.

I am an experienced yoga teacher, E-RYT 200. I trained as yoga instructor at Ayuryoga Eco-Ashram in India, certified by Yoga Alliance. I have studied, and continue to study, Pelvic Health with Shannon Crow and am a member of Pelvic Health Professionals. For Pregnancy Yoga and Advanced Postnatal, I trained under Sally Parkes, certified by Yoga Alliance. To delve deep into Yoga Nidra, the benefits of Shavasana and Vedic teachings, I have studied with Yoga Therapist and Philosophy-rooted "softer-side of yoga" specialist, Kaya Mindlin. For Kids Yoga, I completed a 50 hour training with Rainbow Kids Yoga, course certified by Yoga Alliance. As a Trauma-Informed Professional, certified by ChildBirth International and accredited by the American Nurses Credentialing Center, my aim is to hold a trauma-informed space in all my sessions. I am constantly continuing my training through different courses and seminars. Including: Mental Health Awareness & Yoga, Yoga for Anxiety, Yoga for Pelvic Girdle Pain, Yoga for Chronic Fatigue and Long-COVID relief, Chair Yoga, Yoga for Body Diversity, Yoga for Arthritis, and a 7 day mini-immersion into Yoga Therapy.

I grew up in the US and in Spain and lived in Japan for awhile, as well, before making the most recent (if you consider 2011 recent) move back to Spain and currently live in the "Natural Paradise" of Spain, Asturias. I live just a couple blocks from the coast with my hubby and our mischievous cat, Pippin (yes, named after the mischievous hobbit Perigrin Took, from the Lord of the Rings). I studied journalism in my undergrad and did my masters in History and Analysis of Socio-Culture with a focus in urban anthropology. I have always been passionate about learning about people and the importance of communication. Since 2011, I have taught English as a Foreign Language in public high schools and in private academies. And while I've loved teaching people how to communicate with each other in a foreign language, I've found that often one of the biggest broken links in communication is with ourselves.

I love spending time outside hiking, in mountains, along the coast, or in the valleys. If I could spend most of my time outside, I would. I enjoy cooking, being inventive, trying new things, and sharing the food with friends and family.
Qualifications
E-RYT 200
RPYT Pregnancy Yoga
Advanced Postnatal
Pelvic Health Professional
Kids Yoga
Yoga Nidra
Trauma-Informed Professional
[Español] Me apasiona la salud integral: cuerpo y mente. Creo cien-por-cien que, lo que ha sido probado por la ciencia, nuestra salud mental y nuestra salud física están conectadas. A través de mis estudios de yoga, cuanto más aprendo, más me doy cuenta de lo cierto que es esto. He tenido dolor de espalda crónico y ansiedad durante años, y he descubierto que a través de una práctica de yoga consciente y educada (asana, pranayama y meditación) he podido servir mejor a mi salud global y espero poder compartir esa experiencia con otros.
Soy profesora de yoga con experience, E-RYT 200. Me formé como instructora de yoga en Ayuryoga Eco-Ashram en India, certificado por Yoga Alliance. He estudiado y sigo estudiando la Salud Pélvica con Shannon Crow y soy miembro de Pelvic Health Professionals. Para Yoga de Embarazo y Postparto Avanzado, me formé con Sally Parkes, certificada por Yoga Alliance. Para profundizar en el Yoga Nidra, los beneficios de Savasana y las enseñanzas védicas, he estudiado con el terapeuta de yoga y especialista en "el lado más suave del yoga" arraigado en la filosofía, Kaya Mindlin. Para Kids Yoga, completé un entrenamiento de 50 horas con Rainbow Kids Yoga, curso certificado por Yoga Alliance. Como una Profesional de Cuidado Informado sobre el Trauma, certificado por ChildBirth International y acreditado por el American Nurses Credentialing Center, pretendo mantener un espacio informado sobre el trauma en todas mis sesiones. Continúo constantemente mi formación a través de diferentes cursos y seminarios. Incluyendo: Salud Mental y Yoga, Yoga para Ansiedad, Yoga para Dolor de Cintura Pélvica, Yoga Nidra, Yoga para la Diversidad Corporal, Yoga para la Artritis y una mini-inmersión de 7 días en la Terapia de Yoga.
Crecí en los Estados Unidos y en España y también viví en Japón por un tiempo, antes de hacer la más reciente (si se considera reciente el 2011) mudanza a España y actualmente vivo en el Paraíso Natural de España, Asturias. Vivo a solo un par de manzanas de la costa con mi marido y nuestro gata traviesa, Pippin (sí, llamado así por el travieso hobbit Perigrin Took, del Señor de los Anillos). Estudié periodismo en la universidad e hice mi máster en Historia y Análisis Sociocultural con un enfoque en la antropología urbana. Siempre me ha apasionado aprender sobre las personas y la importancia de la comunicación. Desde 2011, he enseñado inglés como lengua extranjera en institutos públicas y en academias privadas. Y aunque me ha encantado enseñar a las personas cómo comunicarse entre sí, he descubierto que a menudo uno de los mayores vínculos rotos en la comunicación es con nosotros mismos.
Me encanta pasar tiempo al aire libre haciendo senderismo, en las montañas, a lo largo de la costa o en los valles. Si pudiera pasar la mayor parte de mi tiempo al aire libre, lo haría. Disfruto cocinar, tener inventiva, probar cosas nuevas y compartir la comida con amigos y familiares.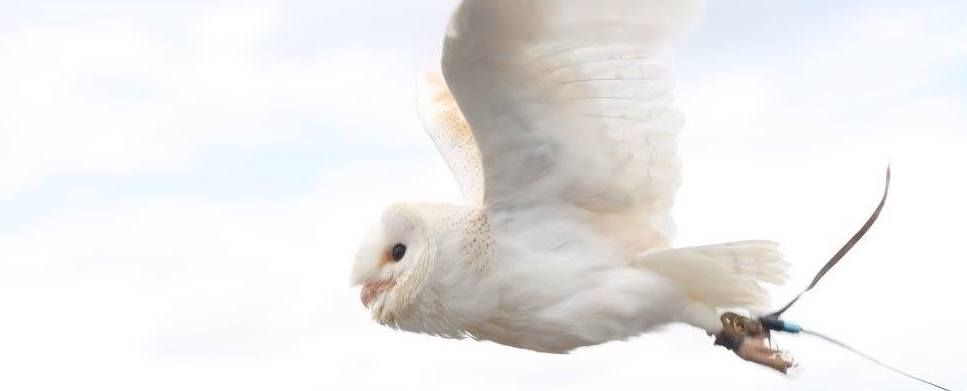 The first barn owl I had the pleasure of holding | La primera lechuza que he tendido el placer de sostener. Hawkridge Bird of Prey, Exmouth, Devon, UK

Nature, in every aspect, has played a big part in making me who I am. The sea, the mountains, the flora and the fauna. All of it has helped me grow as a person, as a woman. I chose the name Tytoni because its a shortened name of Tytonidae, or as most people know them, Barn owls. My favorite animal. It's an elegant, powerful, agile and wise animal. My favorite part? Barn owls are one of the few birds that can fly and hunt without making any sound. To me, the family Tytonidae represents much of what yoga is, they have a perfect union of body, mind and the universal consciousness. Let your inner wisdom fly.
La naturaleza, en todos los aspectos, ha tenido un gran papel en crear quien soy. El mar, las montañas, la flora y la fauna. Todo me ha ayudado crecer cómo persona, cómo mujer. Elegí el nombre Tytoni porque es un nombre corto de Tytonidae, o en lengua común, Lechuza. Mi animal preferido. Es un animal elegante, poderoso, ágil y sabio. Y mi parte favorita: Las lechuzas son unas de las pocas aves que pueden volar y cazar sin hacer ni un ruido. Para mi, la familia Tytonidae representa mucho de lo que representa yoga, posee la unión perfecta de cuerpo, mente y la conciencia común. Deja volar la sabiduría interior.